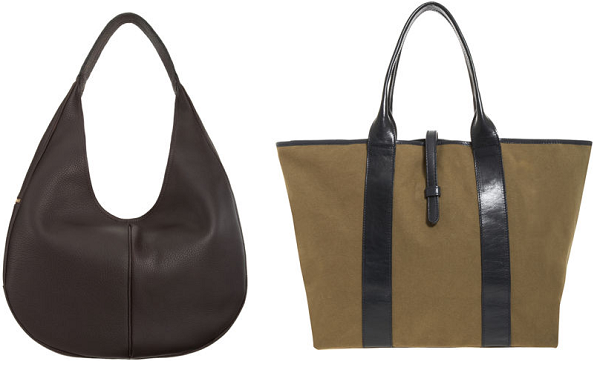 You can always rely on Barneys New York's private-label bags to deliver "inspirational" looks for less. This time of year, prices are starting to plummet; so if you still have a hard time paying nearly $1,000 on a non-label, everyday bag, now is the time to pounce. Sly shopping means you can feel good and look good, no compromises required.
Their large hobo ($499 from $850) is essentially a Valextra Namaste knockoff, and in this case I'm fine with it. The quality is amazing (of course, it's not precisely on par, but it certainly gets the job done) – tight stitching? Check. Supple leather? Double check. At around 25% of the cost of Valextra's luscious original, this is a sure bet. Best of all, there are no obnoxious logos so you get to slick look without the slick price tag.
The Classic tote ($299 from $495) is load up-and-go perfection. Not a direct imitation of anything specific, yet it's got that definitive designer look. Neutral olive canvas, black leather trim that both pops and fades, and endless space: this is the most fundamental of all the totes in your life, and it will doubtlessly be the go-to bag for travel and work. Your personal range of habit-inducing basics just got bigger!