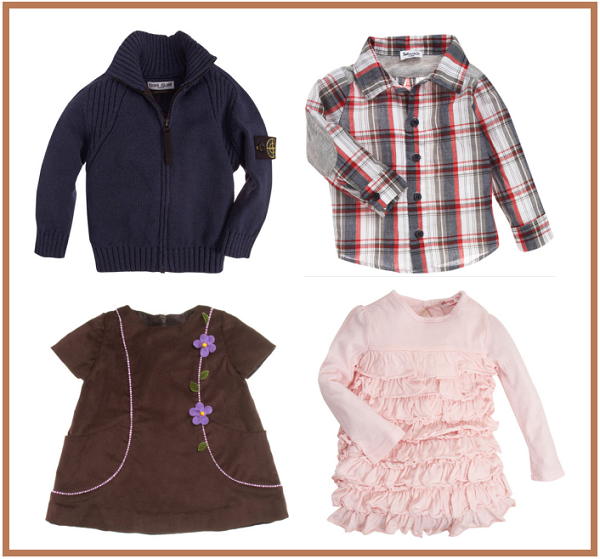 There are two words dear to my heart – "Barneys" and "sale" – especially when it comes to my tots! And you can trust that Barney's well-edited kids' selection means their sales are always good. So now's the time for all those things you've been waiting to get at a bargain deal. Here are some fabulous, as well as functional, pieces just in time for the holidays.
Splendid's red, white, and blue plaid shirt ($40 from $57) is a great-looking piece for little boys up to 24 months. The added elbow patches in solid gray give it a cute kick.
The brown cotton corduroy flower dress by Isabel Garreton ($73 for $105) has striped trimmings donned with hand-embroidered lavender flowers. It even comes with slanted pockets for baby girl to hide her goodies in. Simple and sweet.
Little Ella's pink dress ($41 from $59) is just too adorable and picture perfect for the cutest age, 12-18-month-old tots. With long sleeves and ruffles cascading down the front of the dress, this all-cotton number is quite charming.
My last pick is Stone Island's navy blue zip-up sweater ($169 from $242). This Italian-made cotton classic is comfy and versatile – a perfect piece for little boys. The zipper makes it easy to get on and off, and the solid navy makes it practical. And I like that little logo patch on the sleeve.
From now until Christmas, everything I buy for my own tots will be wrapped up – even the basics they need, like coats. I'm not losing any opportunity to call something a gift! Shop now, it's the best time to stock up on special pieces for their wardrobe without killing your budget.