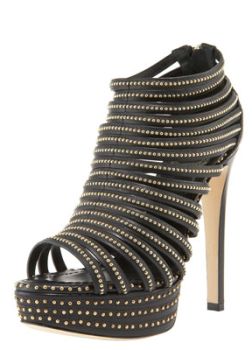 There might be a few hundred studs covering the facade of this strap-happy bootie, but so many amounts to just right! In the case of teeny, glistening, dotty studs, more becomes less – your eye doesn't focus on one area of hardware, but blends them all together seamlessly. The effect is a note-worthy sea of studs that functions like a solid. And you should treat these shoes as such! Christian Dior's bootie isn't as over-the-top as you anticipate it to be; this is as wearable as it is spectacular.
Only yesterday, Alexander Wang got me on  slashed bootie kick. Now it's in full swing. If you're over the cage shoe, you're safe here: strappy is clearly not cagey. Essentially, this is a sandal – infinite straps reveal coy slivers of skin, but it's got the multi-seasonal wear of a bootie, thanks to the full-coverage silhouette. From tights to dresses and down to jeans (either slinky-skinny to let them shine or full-legged so they peek out seductively), these bad-ass babies are right up my alley. You can be sure, I will rock these until they fall apart. At Bergdorf Goodman
for $1,150.
Pair with: Don't shy away – highlight this starry sky of studs with a gold hardware-trimmed clutch. KOTUR plus J.Crew equals timeless chic for an accessible price. The Union and Colony clutches come in easy snakeskin that will carry you through the seasons. KOTUR x J.Crew Union and Colony Clutches, $425.