CHRISTIAN LOUBOUTIN – ARTEMIS SPIKES METAL PYTHON SHOULDER BAG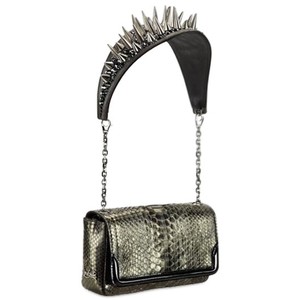 When you hear the term "self-endangerment" in any fashion conversation, it usually means plowing through your savings, not stabbing yourself with your accessory (I won't get into the perils of ridiculously high heels). The spiked-out Artemis shoulder bag – or weapon reserved for medieval criminals – by Christian Louboutin, certainly presents a new style dilemma. Embrace the pain or refuse the risk of sharp metal protrusion? Because I really don't see how you can comfortably carry this bag without hitting yourself in the jugular. And, well, that's not comfortable at all. I know Monsieur Louboutin loves to put ladies in sky-scrapping pumps, but I'm sensing something a little sadistic here: the uppermost spikes are the biggest right where your neck is!
If this bag was truly mind-blowing, you might be more likely to consider taking the risk, but the daggers on this ladylike python flap are both incongruous and unappealing. The Swarovski crystals surrounding them don't do much to make them less foreboding. After one too many nicks on the neck, you do have the option of removing the spiky strap. You're then left with a fairly appealing clutch. But it should definitely come with a warning label: buy at your own risk! On CHRISTIAN LOUBOUTIN – ARTEMIS SPIKES METAL PYTHON SHOULDER BAG
Luisa Via Roma for $1,995.
Pair with: If you think you can tame the spiky beast, more power to you. Although, I would recommend keeping a few Band-Aids in your bag. A multicolored selection of neon strips makes for on-the-go outfit coordination. On Amazon
for $24.90.