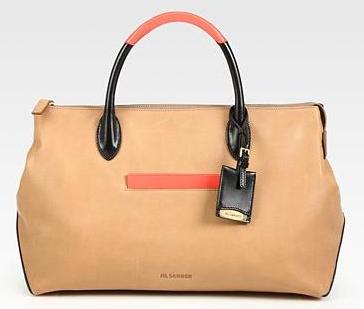 Simple. Refined. And guaranteeing the temptation of everyday use. I don't know about you, but that sounds like the perfect bag to me! It's no big revelation that it's Jil Sander who has produced this modernist must-have. From their boxy shoulder bags to their two-tone touches, their bags just keep getting better – Raf Simons' effortlessly elegant aesthetic is taking the brand far.
This duffel-esque tote doesn't boast blocks of color (let's take a break from the bold, thick chunks of hues, shall we?); this is a play on color. And I'm loving it. A cheeky sliver of juicy watermelon-coral on the handle and a panel highlighting the outer cell phone pocket – way convenient! That's not all. The gusset, unsnapping to expand your room by miles, reveals a big pocket on one side (perfect for stashing keys, magazine, umbrella); then open the tote up to find functional pockets galore. With all this organization, it's unimaginable that anything can get lost. This is like your mobile filing cabinet. Just way better looking!  At Saks Fifth Avenue for $1,380.
Pair with: A classic jacket with a heavy dose of flair. Design guru Kelly Wearstler knows how to jazz up a wearable black blazer – with a cape-like, pleated collar and puckered sleeves. Keep it in your roomy bag, and break it out when you want to turn it up a notch come evening.  Kelly Wearstler Parfait Jacket, $595.