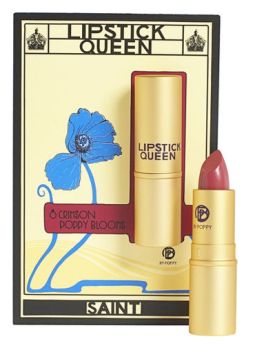 Remember the Clé de Peau lipstick I obsessed about and spent $53 on? (Yes, I knew the price was totally absurd, but that didn't make wearing it any less of a wonderfully sheer moisturizing lipstick experience! Well, maybe a little less).
Good news for snobs who aren't just plain careless with cash! I have found its long-lost twin for one-third the price! Lipstick Queen Saint Lipstick has that same creamy texture, that same lip-gloss feel, and that same full-color lipstick coverage for nowhere near the same price.
There's nothing bold or heavy about this lipstick. It's so light you barely feel it – and you know how I hate weight on my lips! I like my mouth free to speak, sip, and nibble! I love how sheer, moist, gentle and easy it is on the lips. And it comes in an array of beautiful colors – Berry, Coral, Natural, Nude, Pink, Rouge, Rose, Wine, Red, and Rust. But don't be fooled by its name – with a look so soft and seductive, its nowhere near as innocent as it suggests! At Barneys New York for $18.