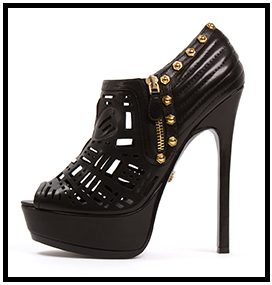 The girl doesn't only have a fierce way with leather pants, snake-embossed clutches, and tomboyish cashmere sweaters. Our newly discovered designer has also killed it on her first-ever shoe collection. These towering laser-cut booties (they will make you 6.5" taller!) are hot, polished, and yes, believe it or not, comfortable! Coming from me, you know it's true.
Not only is Monika Chiang firmly dedicated to blessing women with height (a tall drink of water herself, she believes height is empowering and even infuses platforms in her ballet "flats" and sneakers), she also has the most incredible eye for detail. Every aspect of this sexed-up nappa bootie has been thoroughly obsessed over, shoebox included. It's made to look like a drawer and the pull is her signature spike – as these pointed heels prove, there's not much more womanly than a well-curved spike! Rather than done-to-death studs, Monika opts for true-to-life hardware (empowerment all the way!). The embellishments on these otherwise feminine shoes are nuts. As in nuts and bolts. Delicate laser cutouts get a strong dose of edge.
The height may be daunting, but fear not: the angle of the pitch ensures your arch won't ache, and the top of the bootie holds your foot back, along with your body weight. You're not standing on the balls of your feet, everything is evenly distributed, and buttery soft leather doesn't hurt your cause, either.
Monika's obsession is contagious – and I'm welcoming it. There's no reason I wouldn't pounce on these; for the quality, the price point is crazy. Only $545. WHAT?!?!?! At Monika Chiang for $545.
Pair with: While they are amazing to wear with just about everything, they're really the greatest booties to go with dresses. Black tights offer another look – as long as you spring for stockings with a seamless toe, the coy peep-toe will not interfere.
Even something as simple as Alexander Wang's latest tank dress becomes a look with these shoes. Semi-sheer bouclé and black mesh have a metallic effect that picks up on the strong hardware. On Net-a-Porter
for $750.