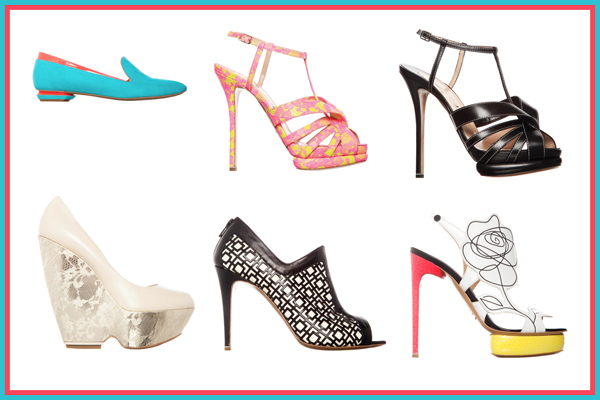 From modern art – slingbacks with the flourishes and wild lines of Picasso – to Pop Art – mules with the bright vivacity of Roy Lichtenstein – and back to Impressionism – pumps with prints that look like Renoir gone wild, checking out Nicholas Kirkwood's spectacular Spring collection is like taking a tour through the museum. While tripping on acid (at least, I would imagine). It's sensory overload, in the best way possible!
A doodled, abstract flower is scribbled with an artist's enthusiasm and other heels, like the jaggedly cut black kid and macramé bootie, aren't so much paintings as they are all-out sculptures. Explosive pleats of shimmering karung look like hologram fish scales.

There's a 1950s influence to the delicate slingbacks and wacky kitten-heel mules, even in the 3-D ribbons that adorn some of the sandals, but it really doesn't get much more original than this. From animated checkered-print napa to laser-cut metallic leather wedges, Kirkwood has taken color-blocking and silhouettes to new levels of creativity.
Heels have been skewered into the most offbeat of shapes. Even the slipper-like flats have geometric little touches, and Kirkwood has given the stiletto an eye-catching bent shape.
Lace-fused calf leather? Yes, please! Especially in color combos like yellow and pink, sweet enough to make a little girl swoon. Satin-fused suede? Just as luscious, particularly when you put it on the curviest of teetering wedges.
Color! Shape! Enthusiam! Nicholas Kirkwood has a lust for life and an even greater lust for imagining shoes with a pulse of their own.