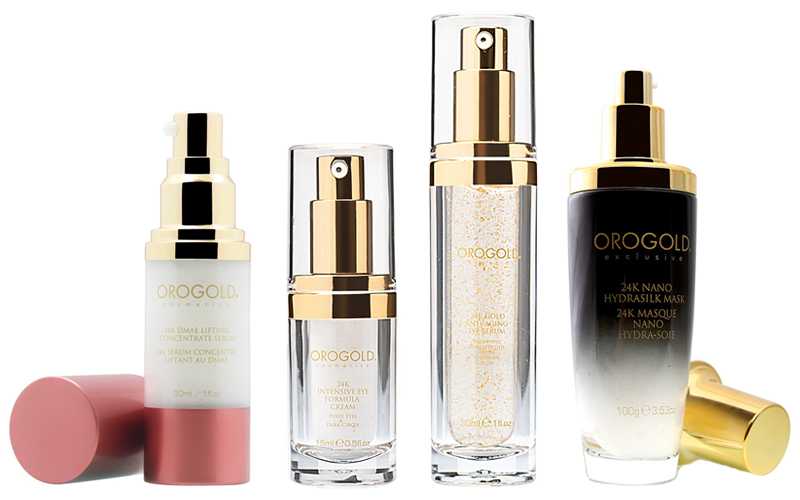 UPDATE (November 2015): In the years since I first wrote about my experience with OROGOLD (below), the company has remained in business, and I have heard from many shoppers around the world who have been subject to the same aggressive sales methods. For all of those readers interested in gold-infused beauty products from truly reputable companies, check out some of the best here.
Walking through Century City Shopping Center, I was stopped by a smiling woman who said, "Do you have a minute to come in? I'd love to show you something." That's certainly a line I've heard before from cosmetic salespeople; however, since the enticement was a brand named OROGOLD (skin care products apparently made with 24-karat Italian gold), I considered it. Noticing the OROGOLD boutique looked beautifully high-end, I agreed to walk in.
The instant I sat down, the smiling woman applied the eye serum and eye cream to my right eye area. Admittedly, there was a huge difference, and I was impressed (it later occurred to me that after a long day of shopping, she could have smeared Vaseline under my eye, and I would have looked better). She then started her hard sales pitch, and it was impossible to get out of there. I kept trying to leave, but the salesperson was unrelenting. She would literally push me back on my chair, offering to lower the price, and then promise me a free bottle of a vitamin peel priced at $148 and both the eye serum and eye cream for only $199 (supposedly each retailed $298, but I believe that the padded prices on their website – as shown on the iPads all of the salespeople carry – are for them to use as a sales pitch). Since she told me there was a money-back guarantee in fourteen days, I agreed to make a purchase. Just as I was paying, another woman magically appeared and the sales associate said, "Oh, look, our specialist is in town for one day only and she'd like to show you something crazy."
This woman was even more aggressive, and frankly, scared me. She showed me the Thermal Mask Bionic Series Kit for $1,088. I have to say, my skin looked great after she wiped the mask off, but that doesn't speak for longterm-use effects. Again, I tried to make an exit, and she said, "Okay, what if I tell you I will give you the entire $1,088 kit for $600, deducting the $199 you just spent, PLUS, I'll throw in a free moisturizer worth $138. You will pay another $400, totaling $600, but you will have a total of seven products." By that point I was properly confused and actually believed I was getting $2,000-plus worth of the most luxurious skincare products for only $600.
When I finally arrived home, I decided look the brand up online and what I found was beyond disturbing. Apparently, hundreds of women across the U.S. have been bullied into buying these products with the promise of a refund, only to find that they are unable to return the products (Stamping "no refunds" on a receipt after paying? Unacceptable.).
The ridiculous prices are also a full-fledge scam. That ultra-expensive Thermal Mask? Just $40 on Amazon
! The $298 Eye Serum? Only $23! Astronomical prices and blatant lies. I returned to the store the very next day and asked for a refund as promised. The two salesgirls were no longer there. A rude guy told me I must have misunderstood; they don't do returns. When I asked about the prices on Amazon and at kiosks at different malls, he claimed they're all fakes. When I asked about the salesgirl who told me she was a part owner, he said she's only a manager. He then printed out some number for me to call, and proceeded to kick me out of the store. I am so appalled! How a brand can have hundreds of complaints with the BBB yet still continue to be in business with very unethical practices is beyond me!
Beware of OROGOLD!