I'm drawn to jewels that look like they possess magical powers. While Pamela Love's moon crescent and clustered crystal necklace makes for a jarring shape, it's altogether so otherworldly I can't help but be fascinated by it.
This is no baby charm – at 3″ wide, this is a large gold-tone pendant that almost reads like a breastplate. It would just amount to a harsh chunk of curved brass, but thick slivers of ethereally opalescent crystals rise out of it and give it new potency. They emerge from the half-moon like the skyline of a city from another universe. The contrasting copper-tone chain (24″ in length) only adds to the offbeat effect. This isn't for everybody – if you wear it, be ready to channel rockin' earth children like Stevie Nicks and Abbey Lee Kershaw, and wear this with brave layers of jewels, leather, and velvet. On Ssense
for $760.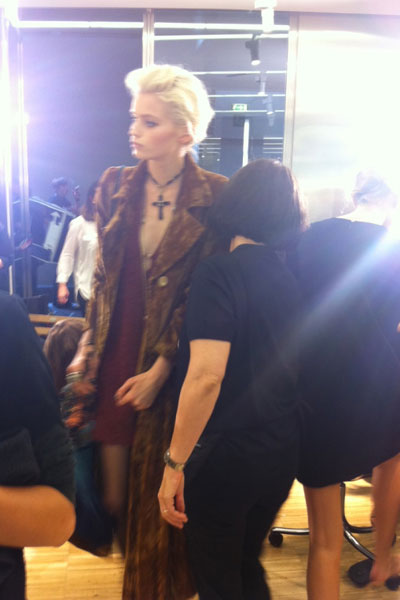 Photo: Grazia
Pair with: Your necklace will still shine, even if you add more metal and texture to the mix. Arielle de Pinto's braided 14-karat gold and sterling silver bracelet is a modern-grunge take on the tennis style. Undone and relaxed, it suits the wild-child spirit. On Net-a-Porter
for $275.