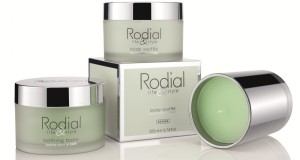 This past summer Rodial founder Maria Hatzistefanis hosted an event to preview her Nip + Fab line, which is now at Target and while I was getting a sneak peak at that, I was also able to check-out her Life & Style range. Truth be told I don't even know if I was supposed to have known about the launch of her candles, bathing balms, body souffles, and gift sets at the time but there was a candle burning that gave the whole room such an amazing aroma that I immediately had to know what the scent was! Now the candle along with bathing balms, body souffles, and gift sets have all launched and each come in three variations:
–Socialite (pink champagne & cassis)
–Rehab (roasted almond & honeymilk)
–Lounge (honeycomb & vanilla)
I've since seen a candle and body souffle in their finished form and they smell as wonderful as I remembered. Surprisingly socialite is my favorite. I find that champagne scented products usually smell cheap (plus who really wants to smell like champagne!?), but the cassis blend makes it enticing and I love the femininity of the pink hue and the mirrored candle glass. As for the souffle, if you're not into dense creams, this whipped body cream is for you (unlike many lightweight cream however it absorbs in a few seconds). The packaging of all the products is understated, but luxe and I absolutely love all the soft macaron-like colors. Check-out the full collection and gift sets here.