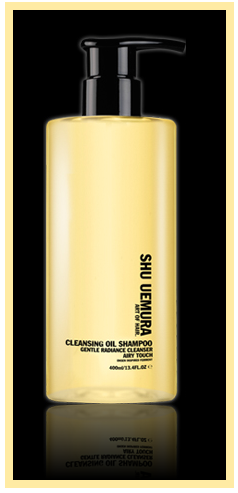 I prefer oils and milks when it comes to facial and body cleansing  – I'm not big on the super-squeaky clean feeling. Oils seem to make me feel less oily, not more so. Which might sound a little strange. But it looks like I'm in good company!
Back in the late fifties, the brilliant makeup artist Shu Uemura developed his cleansing oil. At the same time, he made a revolutionary statement: "Oil removes oil." Hmm…sounds crazy, but it's logical – oil plus oil negates itself? Regardless, the prospect of washing my hair packed full of oils sounded a little counter-intuitive. However, I had to respect the master. And I'm so glad I did.
Shu Uemura's new Cleansing Oil shampoo (full of enticing oils like jasmine, musk rose, argan, camellia, along with black cumin and depsea water) resembles body oil in the container, but dispense it (love the easy pump) and it turns into a rich foam and even richer lather. Your hair is left as clean as can be, but without that stripped down, overly clean feeling that lets you know your hair isn't quite in its natural state. Softness, volume, and moisture all the way. At Shu Uemura for $55.