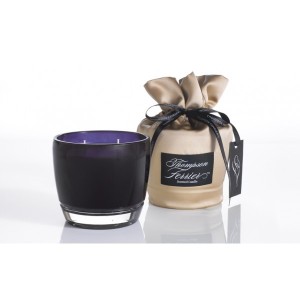 I'm not a big drinker and not a fan of taking baths, so when I'm looking to unwind after a long day it's all about a candle (and Bravo TV of course…!). Unfortunately candle prices have gotten out of control lately and worse yet so many of the $70-plus ones don't have scents that linger past the first two or three candle lightings. Then there's the issue of the actual smell — there's nothing worse than a candle that's so strong that you feel like your skin might breaking-out just sitting near it. It's incredibly hard to find the perfect balance of a candle that looks chic, smells great, lasts, and is reasonably priced, but last week I came across one such candle range. Years in the making Thompson Ferrier recently launched and I stopped by their counter on a recent afternoon when the co-founder, Raffi Arslanian, was hosting a trunk show at Henri Bendel. The brand's story is super sweet. Started by a husband-and-wife team, the collection was named after the street on which the couple first met (Thompson Street in NYC), and the restaurant (the now defunct Upper East Side French bistro Ferrier), where they had their first date.
The first thing that struck me about the collection were the prices given how chic they look and their size. The travel candles are 6.7 oz and only $15 and the full-size candles come in 9.8 oz rectangular ($68; I love that the glass has legs!) and 12.8 oz round ($48) glasses. Henri Bendel is one of the city's most absurdly over-priced stores (even the Chanel sunglasses there cost more than they do at Bergdorf Goodman), so I was completely floored that the candles were as reasonably priced as they were. Plus, the regular sized candles (all hand poured in the US into Lalique-like glass), come in a super chic protective bag with a "to and from" tag. I smelled all 10 of the scents and my favorites were Rhubarb Anise and Indonesian Vetiver, but I found all of the scents to be strong without being aggressive. They've also got unscented candles so you can light one while cooking or when you're having a dinner party and don't want a scent interfering with the smell of food.
In about one month Thompson Ferrier will be launching diffusers and in about six months they'll be launching their fragrances, but I got a sneak peak of the packaging at Bendel's (see below), and am already excited about them!