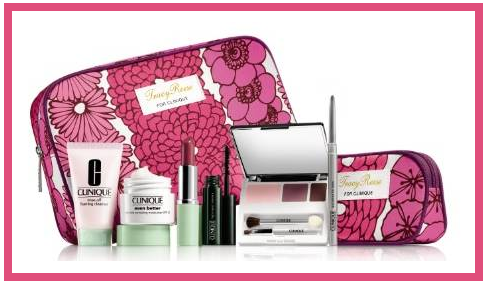 I'll concede mint green doesn't make for the most terribly glamorous of containers, but it's the bullet that counts: one of my favorite lipstick shades is "Twilight Nude" from Clinique. Defying etiquette, I pulled it out at lunch in New York this week, prompting my girlfriend to exclaim, "I haven't seen that packaging since high school!" Well, if you can say the same, it's due time to get reacquainted with the classic skin-conscious makeup brand.
This season, Clinique partnered up with prints-perfect designer Tracy Reese for a gift-with-purchase treat you should not miss out on. Among the goodies is Raspberry Glace lipstick, a perfect shade of a juicy pink shimmer. The Pink, Trax, and Chocolate Chip eye shadow trio can take you from pretty to sultry with a mere swipe. The High-Impact mascara, made to thicken and lengthen lashe,s is an all-time favorite. You also get the creamy Rinse Off Foaming Cleanser and Even Better Skin Tone Correcting Moisturizer, and more! $75 worth of Clinique for just a $25 purchase!
I've already started carrying the baby-sized, splashy floral makeup bag in my clutches for days and nights that only require a lip gloss and concealer – not my usual 5-pound makeup bag.
Available at select Nordstrom stores.