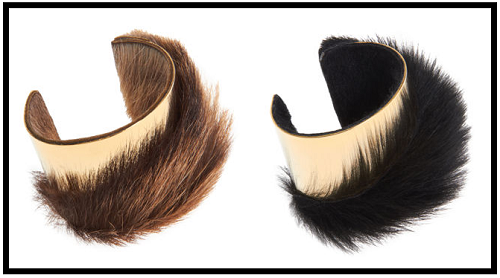 Hey, let's add fur to everything if we can! As long as it's in good taste and the right proportions, I'm in full support of making life a little more luxe, down to every last detail. The unexpected use of fur doesn't always quite work (it can come off affected and even on the savage side), but Wendy Nichol's even-keeled blend of smooth brass plating and wave of soft shearling gets it right. Just the right amount of polished metal holds its own to give it strength and cohesion.
Wendy knows how to handle rugged accessories. The New York City-based mom is hands-on with every aspect of her line, from the rustic leather satchels to the studded earrings. Her West Village shop also houses her work studio in the back where leather patterns are cut and jewels are molded. Oh, and that whole "feathers in the hair" trend? Wendy was offering up the extensions out of her shop long before it had even occurred to most trend-seeking girls. At Barneys New York for $225.
Pair with: Follow Rachel Zoe's lead. When it comes to her Five Essentials, Lanvin's Sweet Dora is her number-one clutch. The mix of black python, tortoise shell, and gold hardware will work in harmony with the cuff. Sweet Dora Python Clutch, $2,590.