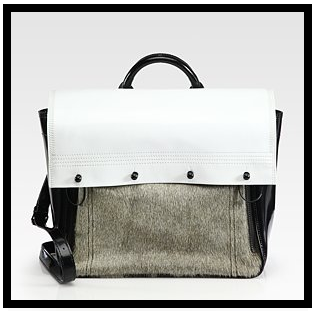 Phillip Lim is expressing his passion for shine with a new slew of patent leather-centric messenger bags. With a contrasting panel of gray calf-hair, softening up a bold look, this toneless take on color-blocking makes my grade. At first, the large white flap looks awkward, but give it a chance. It starts to grow on you. While it reads as perfectly stiff in photos, once you pack it, crumple it, and use it, the hard-edged flap loses all that rigidity.
Glossy and oversized (it measures 14.5" by 10.5"), a funky messenger like this requires a flirty sense of humor and a dose of city-cool. This is most definitely a satchel for young, Lim-loving girls who live on the go and know how to mix up their favorite designers in a manner that's totally unique. The ones who can rock the "schleppy" vibe without actually being schleppy – you know the kind. With schoolgirl charm and a splash of attitude just for fun, a day bag like this will inspire you to go for a look that is perfectly and ever-so-slightly disheveled. At Saks Fifth Avenue
for $1,050.
Pair with: Alex Wang is also likely to be on this wearer's list of designer faves. In marled yellow and gray, this ruched T by Alexander Wang skirt picks up on the texture of the calf-hair, and is neutral enough to leave room to put your own spin on it. On Net-a-Porter
for $140.