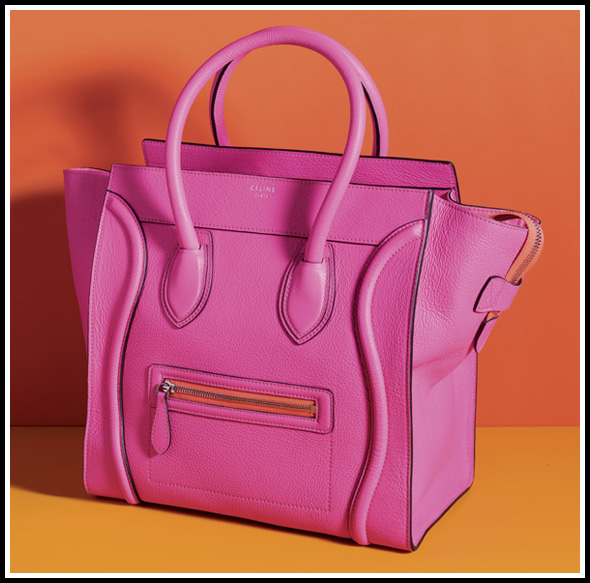 I have always believed you can say it with color (your mood, personality, temperament) and I have always been a fan of hot pink. What's a trendy color for some – scratch that, most – is a long-standing basic in my wardrobe. Not only does it set off neutral shades with ease (with navy, it's brilliant), I believe hot pink to be the most spirit-lifting color in the spectrum!
Now that vibrant bags are popping up allover Resort season, I might not be the only one treating it like a style staple. And that's just fine with me; pink has enough power to go around. I'm pleased to see Kelly finally embracing the color after of years of pale-pink love
Bright is the way to go, and if you still haven't taken to it, behold Céline's latest rendition of the Luggage tote (measuring 12″ by 12" by 7″). It's succulent, it radiates good energy, and it pops like nothing else. This is a must. Wonderfully clashing orange zipper details put it over the edge of lust-worthiness. I know you have heard me say this before, but Céline's Luggage tote is the young girl's answer to her mother's Birkin! In hot pink, it's my answer to absolutely anytime I have the blues.
At Bergdorf Goodman for $2,000.
Pair with: Orange you glad there's a touch of tangerine in this tote? Mimic the zippers with Stella McCartney's faux python and leather sandals. Orange soles look edgy against nude and natural snake (they go so well, I'll swallow the fact that they're faux!).
On Net-a-Porter for $845.