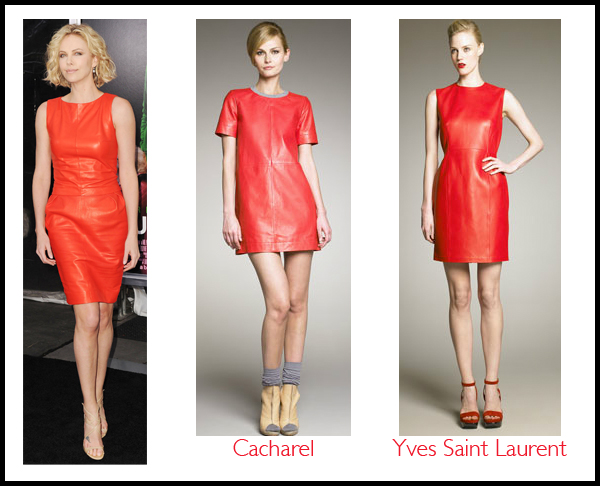 Just call her Miss Dior. At the premiere of her new film, "Young Adult," in New York City last week, Charlize Theron stayed dedicated to her tried and true label. If you were the couture fashion house, wouldn't you want to dress her for every occasion, too? This just goes to show there is nothing the woman can't wear. Fiery orange leather is not for the faint of fashion, but the classic sheath shape makes this a slightly more approachable choice. Charlize wisely paired the dress with soft, pink-nude lips and equally soft, wavy locks, and drove home the easy yet bright sense of chic with Jimmy Choo sandals. Minimalist, strappy, and nude, they posed a perfect contrast to the hot dress and prevented the sizzling look from veering into overkill. The result? Deceptively simple and boldly alluring.

Cacharel's knit-trimmed dress has a looser, shift-like shape, but it delivers the same pop of neon-red leather. The more relaxed cut also makes for a more approachable option. Or go all-out with Yves Saint Laurent's leather dress, an investment piece that makes a serious statement.
Cacharel Knit-Trimmed Leather Shift Dress
At Neiman Marcus for $657 (from $1,095).
Yves Saint Laurent Leather Dress
At Neiman Marcus for $3,490.