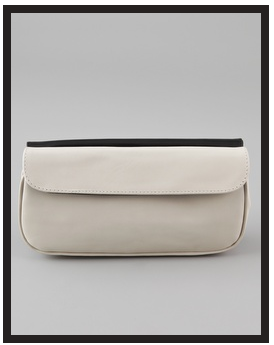 This clutch might be bi-colored, but it's really three different clutches in one. Through her collaboration with preternaturally hip label and boutique, Opening Ceremony (currently in their fourth season as a team), Chloe Sevigny has proven she has a bona fide eye for design. Now, thanks to a whip-smart design, the actress/fashion plate has served up a clutch I can't refuse.
Leave the Siamese-twin pouches together for a contrasting look of black versus white (an eternal combination that reaches far beyond the color-blocking trend) or unsnap them, for your choice of a petite black or white clutch. Smooth simple leather in a minimal flap design lends itself well to this two-faced concept. While the pouches would be nothing remarkable on their own, the total package brimming with options makes it special. I'm loving the ingenuity at play more than anything else. On ShopBop for $395.
Pair with: In the mood for more double trouble? Add Alexander McQueen's Siamese-skull ring, a twice-as-nice whammy of their trademark icon, embellished with Swarovski crystals. On Net-a-Porter
for $275.