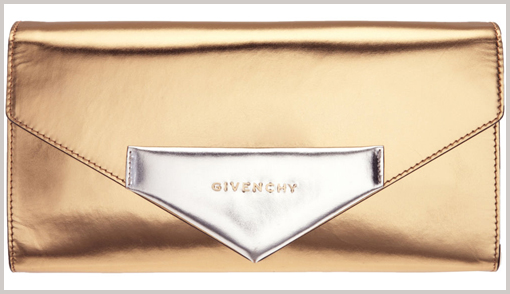 The designer logo: Show-off signal or badge of honor? It can go either way. Sure, bold Givenchy lettering, spotlighted on a glaring silver triangle dead-center on the flap, is a bit ostentatious, but worn the right way, it is cheeky and chic. And when it comes to Givenchy logos, isn't that always the point? (We're not talking about Louis Vuitton's stone-sober, classic brown monogram print.)
Everyone needs a glitzy clutch in her collection for special moments, razzle-dazzle parties, or times when the rest of the outfit is so boring it needs some spice. Aside the from the three-dimensional plaque logo, what makes this gleaming evening clutch special is the fact that, despite it's high-impact tonality, it's entirely neutral. Metallics are the loophole in the world of neutral bags – all the flair of color with none of the clash. Givenchy knows just how to showcase it; this sleek and minimal shape permits high-wattage metal to shine without going over the top. Well, maybe just a little over the top…Shine on, golden girl!
Available for pre-order at Barneys New York for $1,220.
Pair with: Choosing a contrasting texture is vital. With a bag like this, you need something that can stand up to it, sans Vegas flash. Alexander McQueen's quirky-beautiful patchwork-python pump, with a curved, lacquered wooden heel will throw everything off in the right way.
On Luisa Via Roma
for $1,230.