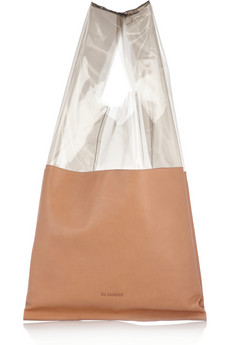 Clear plastic wrapping has never looked so cool! While I'm more accustomed to encountering it with leftovers than as a topper for my tote, Jil Sander has a way of making me appreciate the not so obvious. Slouchy yet tailored toffee calf leather (the puckering side folds add a nice visual detail) makes for everyday, thrown-on-and-go ease, and one internal pouch pocket ensures your goods won't be a jumbled mess. But if leather was the only feature this bag had going for it, well, it just wouldn't make the grade.
Gray transparent acetate is not only unexpected, it's a perfect neutral that puts a twist on your average daytime shopper. Jil Sander is one of the few designers who could make the plastic look feel chic, not cheap. Crinkly it up, mash it between your hands (my only worry would be a sweaty palm after hours of toting!), and let it hang with casual unrestraint. Saran wrap has just made my hip list. On Net-a-Porter
for $650.
Pair with: Keep your feet looking fly while you're on the go with a super-stylish flat. Giuseppe Zanotti puts all other ballet flats to shame with his take: lightly metallic mesh trimmed in snake-stamped leather and flirting lacing on the heel. At Barneys New York for $595.