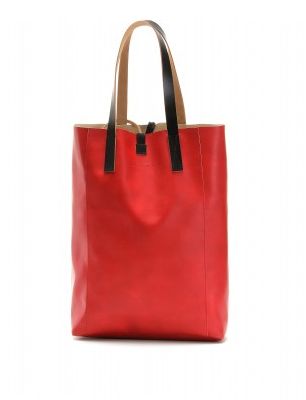 I just did a double take. Could it be, only three-hundred bucks for an all-leather bag? By Marni?! You can never have enough daytime totes, whether it's for carrying your laptop and then some, throwing in a set of gym clothes (half the battle of hitting the gym is getting there and a bag you like to carry your gear in is helpful motivation), or flying around town and running errands. When it's in juicy-red vachetta leather, it's irresistible. With two-tone handles of nude and black, you've got a neutral bag that goes with almost everything. I love a north-south shape because I know nothing is falling out too easily, and a canvas ribbon tie not only secures it shut, it brings appeal in classic Marni Edition fashion, quirky and carefree. The shopper tote is not lined, but when it comes to a casual, throw-around bag, that's not going to break the deal. And it does come complete with an internal zip pocket.
No shock here, this sold out fast the first round on My Theresa and sold out again on re-stock, so I would sign up on the wait list ASAP since it's only a matter of fact that it will sell out AGAIN!
On My Theresa for $315.
Pair with: Mimic the dual tones of the straps with Tory Burch's Carrie ballerina flats, ideal for scampering around all day. Or keep this stretchy, bendy pair in your satchel for a quick switch into something comfortable.
At Neiman Marcus for $225.
http://www.neimanmarcus.com/store/catalog/prod.jhtml?itemId=prod141870031&parentId=cat40840751&masterId=cat13030734&index=22&cmCat=cat000000cat000141cat13030734cat40840751&isEditorial=false