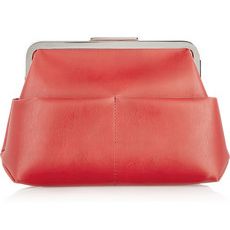 There are a number of reasons I love Marni (vivacious prints, a creative way with neutrals, lively effortlessness that only a forward-thinking Italian like Consuelo Castiglioni could produce), but when it comes to bags, the number-one reason I love Marni: their decidedly playful way with the most simplistic of designs.
A frame-top clutch in red leather – sounds like the most exciting thing about it would be the sassy hue, right? Wrong! Few clutches have a spunky puffer shape like this one, letting it be known that this is truly a cheeky, fun item. Such a pertly voluminous shape brings to mind classic change purses, but this angular take is miles more elegant. And it's not all about looks; not only are the outer pockets adorable, they're extremely useful!
This little bag functions just as well as a clutch as it does an organizer inside big totes and shoppers that have no interior pockets. Take it out or pack it in, either way you'll be glad you brought some Marni with you. On Net-a-Porter
for $490.
Pair with: This soft, enticing red would lend itself well to a bold, bright shoe in a contrasting shade and even more opposing texture. Like Alexander Wang's cobalt-blue pumps, with distressed and frayed fish scale-effect leather. Alexander Wang Aida Fish Scale Platform Pumps, $475.