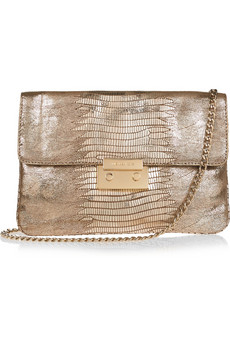 Why spend it all in one place? With MICHAEL Michael Kors in the picture, you can spread the wealth. Save a whole piggy bank's worth of pretty pennies and get glamorous for the holidays with this Frugal Snob-approved, stamped-lizard clutch.
This is the perfect party bag. Not only does the metallic sheen say "festive" with a capital F, it comes with a sly little shoulder strap for cocktail parties that require both hands to navigate drinks and hors d'oeuvres. In line with the skinny strap, this clutch has a sleek and flat shape that I appreciate – sometimes your look requires a slim-profile bag that won't get in the way. And you're not even advertising the fact that you paid less via Michael's kid-sister line! Along with much-appreciated details like interior compartments and a magnetic back pocket, this party animal shows off the signature Kors clasp. On Net-a-Porter for $220.
Pair with: Announce you're on the glam squad with their Bette Davis Eyes mega-drop danglers. Erickson Beamon takes retro crystals into dramatic territory with this necklace. On Erickson Beamon Bette Davis Eyes Necklace
for $860.