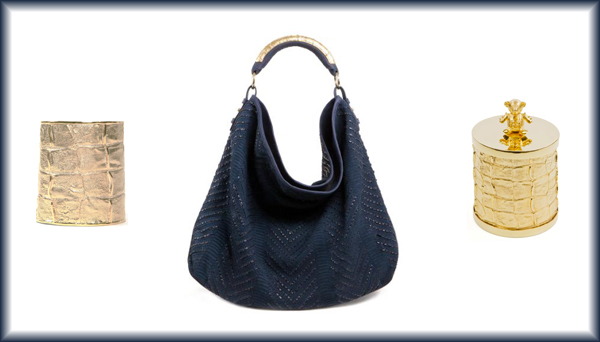 By now you're familiar with Monika Chiang's chic-meets-street designs and keenly unique eye. And chances are you've been coveting her spiked-out leathers and brazen accessories (I know I have!). Since December is all about giving, we're making this month's giveaway a doozy. The lucky winner will get not one, but three amazing Monika Chiang pieces.
Made of lush woven leather and topped with a sculpted crocodile texture handle, the divinely slouchy Raja hobo is the perfect blend of casual urban elegance and meticulous artisan workmanship. And it doesn't end there: the gold Artisanal Croc cuff takes the touchable, textural aspects we love about exotics and appropriates it to a timeless jewel. The prize is rounded out with a custom-blended candle that's a personal favorite of Monika's.
These spectacular pieces will make the best gifts for the best bag snob in your life or perhaps even better, yourself! And don't forget, you must sign up for the newsletter to win, even if you've signed up before. Bon chance, snobs! Giveaway ends December 31 at 11:59pm EST. We will select one winner on January. 1st and announce the winner by January 15th.
A huge THANK YOU to Monika Chiang for this generous giveaway!