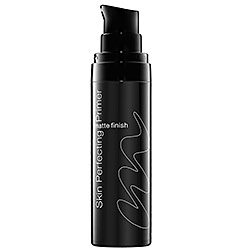 I've had a totally different experience with the Murad Hybrids Skin Perfecting Primer from Tina's rash nightmare. The formula I use is the Matte Finish – when I have the option, I always prefer matte since my skin glistens with oil on its own.
I also have extremely sensitive skin; if I scratch too hard, I get welts that make me look like I just got lashed! I've used this primer a couple of times with no ill effects (maybe Tina's skin was adjusting to Taiwan's humid climate?), not because I haven't trusted it, but since I only use primer on days I wear heavy makeup (read, very special occasions). Murad's version is flesh-toned, so I actually use it as a mild, mini-foundation. The times when I want partial coverage and not a full face, especially at night when tinted moisturizer seems unnecessary.
It's lightweight and has a silky finish that requires no more effort than a light blending. It won't cover up anything (so you'll probably want a couple dabs of concealer), but it does even out your skin's texture. Which is what a primer is meant to do. If you think about it, this makes perfect sense as a mini-foundation. You just want even skin, not a mask of makeup. Of course, as with every product, you should test it before slathering it on all over your face (Tina sure learned the hard way). Like my fellow snob, I, too, probably test too many products – but maybe I've trained my skin to be tolerant! At Sephora
for $35.