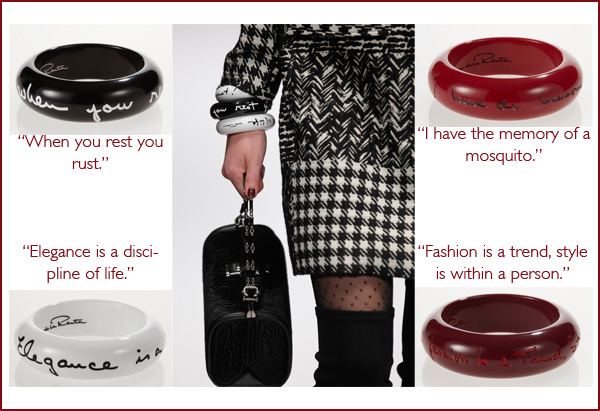 We all know Oscar's iconic flourished font from his yearned-after labels. Now the energetically scribbled handwriting is coming out from inside the dresses, taking the spotlight on a series of super-personal bangles.
Don't we all want a little more de la Renta in our lives (or in my case, A LOT more)? Fresh out of his Pre-Fall 2012 collection, heavy on classy uptown chic, these shockingly frugal-approved enamel bangles just became available for purchase via their Facebook page.
Each of the four bracelets, in graphic black, white, and two shades of crimson, are equally expressive. Choose between your favorite signature Oscar quote, etched in his very own handwriting! Whichever you choose, make sure you stack them in odd numbers (something Nina Garcia taught me), which means you need to get at least three bangles. I'm going for them all to rotate, love an armful of fun!
Even if they arrive just after the holidays, these make the perfect gift. They even come in a lovely cloth pouch. Exclusively on Facebook for $48 each!