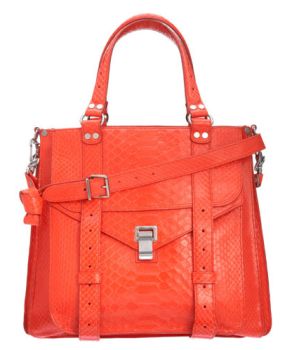 I think we all have to agree that the PS1 is pretty perfect in all its various incarnations, whether it's suede, pony, or leather, bright or dark, messenger or pouch. But a tote in python requires special recognition.
The eternally cool vibe is still there in spades, but you can't deny the difference from most of its sisters. This isn't your classic, schoolboy flap style, which might not work for some (mainly me). I love the easy access of an open-top tote. A fold-over front pocket achieves the classic PS1 look (you just probably won't be going in and out of it too much), but a taller, elongated shape begets ladylike freshness.
The plentiful straps aren't as confusing as they appear; in this case, the optional shoulder strap works well. Use it and the top handles hang down happily, aligning with the signature front straps, so the look isn't as intrusive as most convertible totes. The color is scalding hot – just the fiery red I need to put some spring in my step this month, especially in python. I sure hope Santa has this in stock! If not, Barneys always has me covered =) At Barneys New York for $4,250.
Pair with: Cool off your flaming coral bag with 3.1 Philip Lim's silk-crepe trench coat. A biker-inspired style in a cool shade exudes white heat. On Shopbop for $795.