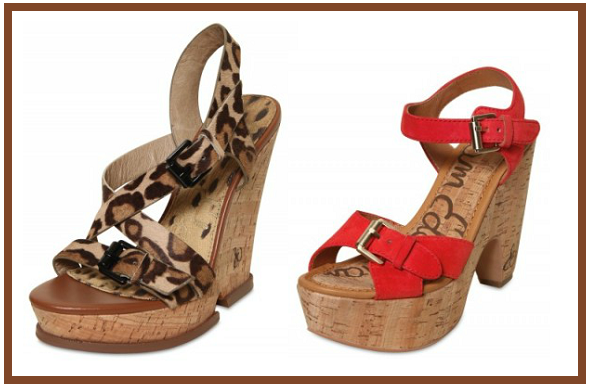 As fun as it can be, sometimes spending buckets of cash on winter-vacation getaway wear just isn't the way to go. One of the best reasons to go frugal is to give yourself the opportunity to flaunt your prowess when it comes to the high-low mix. When you get creative is often when you ending up looking like your creative – sounds logical, right?
It's easy to get inspired when fresh sandals turn up, like these by Sam Edelman. Seasons in and out, cork wedges make for timeless resort chic. Maybe it's because they have a retro edge that never grows old – and Edelman nails it. Bright red suede
($264) is ideal for a cheery pop of color (make sure your toes are just as splashy!), but it's naturally the leopard-print straps
($286) that catch my eye. A hefty heel with an on-trend cutout detail gets an upgrade courtesy of spotty pony-skin. The best part? You'll still have money to spend on your holiday! Scoop them up and then get packing.
Pair with: Keep a cute cover-up on hand for poolside lounging. Jets by Jessica Allen's Explore crochet caftan is not-so-basic black. The perfect level of sheerness with a deep-V neckline will still show off your swimwear and look relaxed with your wedges. On Net-a-Porter
for $330.