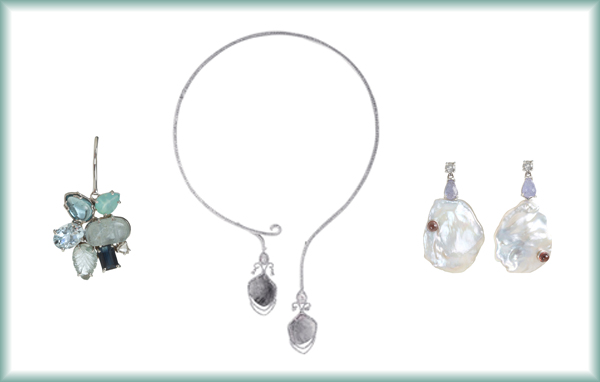 With a name like Khazzam, this designer has instant cool credibility, but Sharon actually backs up her unforgettable surname with designs that are out-of-this-world amazing. To call her wildly creative is an understatement – this is thoroughly beyond-the-box thinking that confidently maintains an elevated taste level fit for the snobbiest of jewel snobs.
Everyone has a pair of diamond studs and mother-of-pearl is so overdone at this point (and easily goes dowdy in the wrong hands), but this effortless amalgam of 18-karat white gold, tourmaline, and Baroque pearl ($3,860) changes the game. What makes it for me is the precisely placed dot of red emerald – fun and unique, versatile and wearable.
A single earring has never looked so lavish, and somehow the fact that it's a lone piece makes it all the more special. An extravagant mélange of soft green gemstones with a rich pop of blue, the Norma earring ($2,400) is an unusual way to inject some color without getting too fussy and overdone. But the star of the trio is the diamond scroll collar, the equivalent of a royalty-worthy tiara for your neck. Asymmetrically placed pendants make for an instant showstopper. If you are floored by the price, consider the delightful fact that you are also getting earrings – those glittering gray pendants detach and convert into earrings!
Available at Barneys New York.