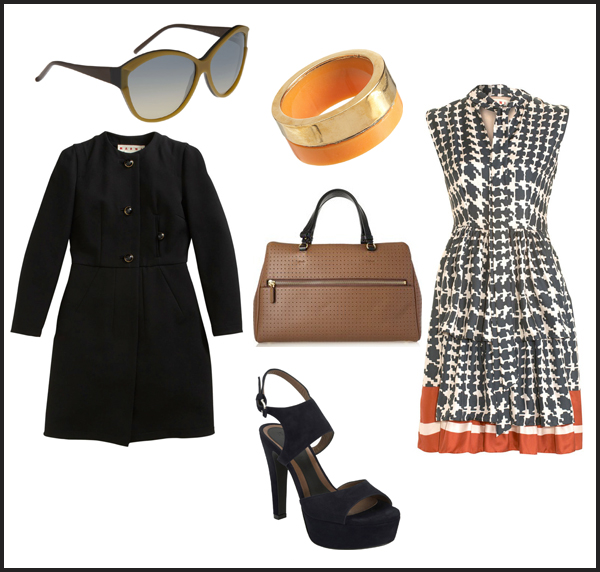 It's an old – and often rightly spoken – fashion rule to avoid wearing a single designer from head to toe (the one exception being when you're sitting front row at that designer's show). But when it comes to Marni, this law, along with a handful of others, flies out the window.
Someone needs to invite me to the next Marni sample sale. And, yes, of course, I will fly to Italy exclusively for it – I could sit first-class and still save money. Because the last few seasons, Marni has been riding a hot streak, and I can safely say I love to wear as much of it as possible, for every occasion. Exhibit A: this divine ensemble.
Upturned Rounded Cat Sunglasses: Cat-eye shades that are too exaggerated look like they belong in a time capsule. These have just enough oomph for emphasis and are rounded and subtle, so they are flattering for all.
Available for pre-order at Barneys for $350.
Apricot Horizontal Striped Bangle: One bangle, double the fun. Peachy resin sets off distressed gold-tone brass in the best way possible.
At Barneys for $395.
Houndstooth Dress: Houndstooth looks unrecognizably cool as a result of Conseulo's brilliant way with prints, whether they are bold or abstract. This one is both – and this silk dress is also endlessly versatile.
Available for pre-order at Barneys for $1,550.
Two-Piece Sandal: Rock these suede platforms in the winter with tights or the summer with a tan. Either way, they have just enough of everything (comfort, sex appeal, and creatively executed straps) to satisfy me for all seasons.
Available at Barneys for $710.
Princess Coat: Wear this wool blend and that's precisely how you will feel: like style royalty. Structure and sweetness with a splash of sophistication: this coat is built to last.
At Barneys for $1,550.
This entire enviable outfit is available at Barneys New York.
Perforated leather tote: Marni's bags are back, baby, with a ladylike-meets-artsy-cool vengeance. This leather top-handle will appeal to your classic and funky sides at once.
At Net-A-Porter for $1,400.
Bag is available on Net-a-Porter.