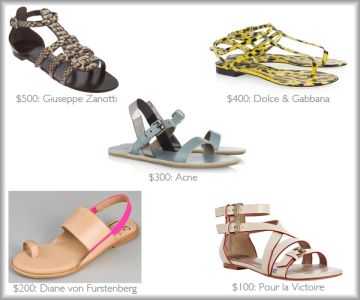 Unlike more serious shoes, you can score great sandals at each and every price point. Shoe Snob has got you semi-covered with their Top 5 Sandals at Every Price Point.
Sequins Get Supersized! Peep These Pretty Paillette Pieces at TheFind.
FabSugar has 25 Ways to Beat the Winter Styling Blues.
Holiday Season means one thing – parties (right up to Valentine's Day!) And what little girl doesn't want a new party dress? TotSnob has the Party-Perfect Dresses.
Red Carpet Fashion Awards covers the Red Carpet Designer of 2011 & Couturier of 2011 – Elie Saab.
Katie Holmes in Holmes & Yang reminds us at sexy is what is left to the imagination, hinting at your skin through glimpses of elegant chiffon and lace. At CoutureSnob.
Southern Style Wisdom: Closed Set with Julie Bensman at The Fashion Spot.
With lots of inspiration from wild animals and hard geometric shapes, Anita Ko at JewelSnob reminds us that studs don't always have to be diamond solitaires.
The Budget Fashionista has Six Great Cocktail Dresses for Under $50
BeautySnob explores the Murad Hybrids Skin Perfecting Primer Matte Finish again.