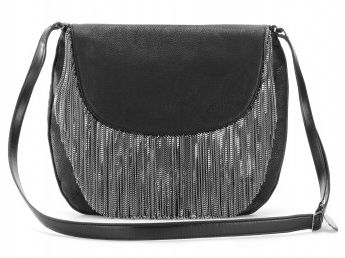 The infusion of metal has done Stella well. It's always refreshing to see her take it up a notch past the chain-trimmed Falabella; continuing with her heavy-metal theme, the otherwise-mundane Electra black shoulder bag. An adjustable strap lets you decide if you feel like slinging over your shoulder or sporting it across the body, and a curtain of glistening fringe is great for adding excitement and depth to a flat, sleek, everyday bag.
The flair is there to add excitement to a practical bag but the pragmatism is lost due to the fact that the swingy metal fringes are actually on the flap itself. Just imagination your annoyance every time you go to open your bag and having to sweep the dangling chains aside. It's almost enough to make you leave it closed all the time! It doesn't even have an outer pocket for often-accessed items – a definite downer. The verdict? The look is straightforward cool, but the reality is irritatingly fussy. On My Theresa
for $1,685.
Pair with: If you're up for the challenge, carry this with some day-worthy bling. Shourouk's Baraka Moonlihgt bracelet blends a lanyward-esque, neon-green cord and a cluster of crystals. On Net-a-Porter
for $290.