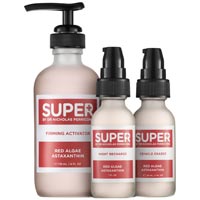 Come the holidays many of us fall off the bandwagon when it comes to eating healthfully, so why not make-up for the lack of steamed veggies and fresh fruits in our diet by indulging in superfood-based skincare? Hey, it can't hurt, right!? Dr. Nicholas Perricone encourages beauty from the inside out and from the outside in, which is why he took his vast knowledge of superfoods and antioxidants and applied it topically with his Super line. Now, for holiday 2011, he's come out with a limited edition value kit called Wrinkle Protection ($85 – $135 value). I've been using it for the last few weeks and it comes with three full-size products: Firming Activator, Crinkle Eraser (day cream), and Night Recharge (night cream). The key ingredient is astaxanthin, which is the moisture-retaining antioxidant found in red algae so I was surprised that I didn't find the day or the night cream to be particularly moisturizing. In fact, I had to follow each of them up with a moisturizing cream! The Firming Activator isn't particularly moisturizing either, but it helps make the day and night creams more effective if you prep skin with it first.
While you shouldn't expect this kit to drench skin in moisture it does help smooth out your skin. I've been having a stressful few weeks and there have been a few times when I've looked at myself in the mirror at the end of the day and scared myself! The night cream (which, for the most part, I used in combination with an 8-hour moisturizing cream from Elizabeth Arden), helped smooth out my stressed skin, so in terms of tackling fine lines and an overall haggered look, it's definitely a winner. The products have a lemon-y scent and absorb fairly quickly. Also, I love that they come packaged with a removable top that you pop into the sealed bottle so you know no one has sampled the product before you use it (I'm always worried about that when I buy something at Sephora!).
I'd definitely use Super Night Recharge again, but for a day cream I rather have something with an SPF 15 this time of year and I would have been happier had the kit come with a moisturizer rather than a toner, but it's still a good deal especially if you don't have dry skin.
All products can be purchased individually as well –
Super by Dr. Nicholas Perricone Firming Activator, $38

Super by Dr. Nicholas Perricone Super Night Recharge with Red Algae, $50