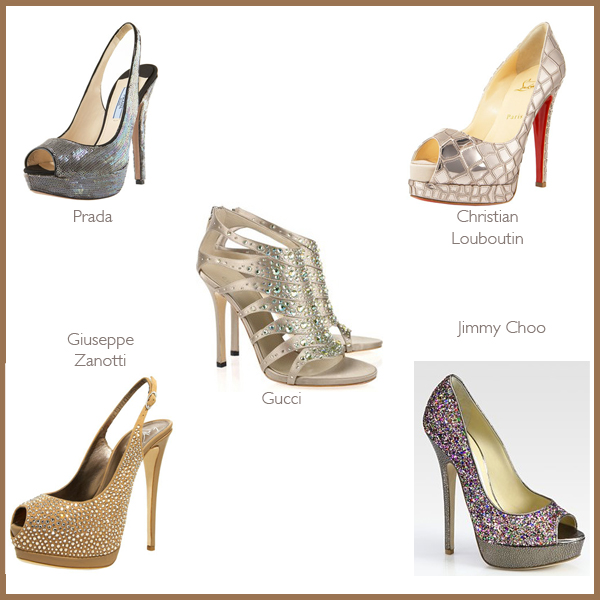 If you ask me, it's the holidays haven't officially arrived until some sparkle is involved. Where there is magic in the air, you can't help but crave some magic for your feet. Twinkle, glimmer, glitter, sequins, shimmer – whatever you call it, you won't really feel like kicking your heels up until they are bedecked with details that light up the night. Here, my top picks for tootsies that will be the life of the party.
1) Prada Sequin Degrade Platform Pump: Like the most glamorous fish scales I've ever seen, these gray sequins have a hologram quality that changes with the light. Which means with every step you take, onlookers will be unable to keep their eyes off your shimmering pumps.  Exclusively at Bergdorf Goodman for $950.
2) Christian Louboutin Croc-Sequined Platform Pump: A mosaic of metallic leather, cut to look like the most luscious of skins and hand-sewn on crepe-satin, these doubled platforms will keep you glimmering throughout all the festivities.  At Bergdorf Goodman for $1,495.
3) Gucci Crystal-Embellished Silk-Satin Sandals: These taupe, cutout-strap stunners look like they were conceived for the classiest of Vega showgirls to ever strut on the stage. Iridescent crystals resemble sparkling water droplets to fixation-inspiring effects. On Net-a-Porter
for $1,100.
4) Giuseppe Zanotti Crystallized Suede Platform Slingback: Nude suede exudes effortlessness; when you cover a sexy silhouette in a healthy heaping of Swarovski crystals, you get high-wattage glamour that goes with any color in the rainbow.  At Bergdorf Goodman for $1,370.
5) Jimmy Choo Vibe Glitter-Coated Leather Peep-Toe Pumps: And then there's the sparkle that's delivered in all the colors of the rainbow! What's more festive than cracked leather-trimmed pumps that are covered in glittering confetti?  At Saks Fifth Avenue for $795.