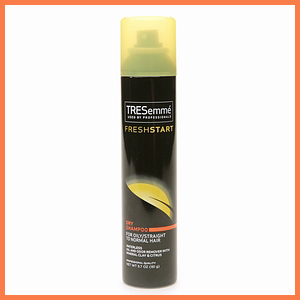 As much as I would like to have two hours to get ready before I go out, the reality is I have about 30 minutes on a good day. So with few precious minutes, hair washing is out of the question. At the risk of sounding gross, yes, I do sometimes leave the house with dirty hair. I am okay with that fact. I have two kids and I blog all day! Dry shampoo is definitely my friend, and I have tried many.
Recently, TRESemme FreshStart dry shampoo showed up in one of the goody bags I received at an event. And yesterday, in haste and desperation, I had to use it. It's not bad for a dry shampoo. It does the job without making my very black hair appear whitish with residue, and my hair did appear to be less greasy. It also added volume – one of the benefits of dry shampoos – but my hair did go limp after a few hours. So even though you don't see residue from this dry shampoo, my big problem is that you do, in fact, end up with hair that's pretty caked down and feels rather gunky to the touch.
It does smell great, which is reason enough to use dry shampoo. The last thing we want to do is gross people out with smelly hair. But while the scent is nice, unfortunately, the blast of spray is bit gag-inducing. I think I gave my dog asthma with the plume of fume it caused! So you see, there are positives (you can't beat the price!) followed by several "buts". My final verdict: in a pinch, sure, it's fine, but there are better options out there (I prefer the Neil George Refresh dry shampoo).
On Drugstore.com for $5.99.