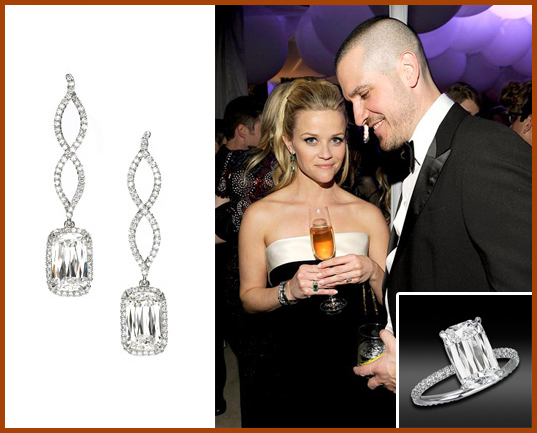 Ashoka stones are incredibly rare, thanks to the cut. It requires a special raw diamond to be cut this way (less than 10% even have the potential) – an Ashoka has 62 facets, while a brilliant-cut diamond has 58. Naturally, it's considered superior because of the amount of facets; the more a diamond possesses, the sparklier it is – facets are what pick up light and reflect it.
It is the same cut as Reese Witherspoon's engagement ring. Her flawless 4-carat Ashoka engagement ring (nicely done, Jim Toth!), set on a diamond-and-platinum band, is the kind of ring that makes eyes light up as big and brightly as the rock itself.
Don't have the engagement of your dreams coming up? William Goldberg (an over-50-year-old family business famed for their super-brilliant way with super-brilliant diamonds) also makes Ashoka Flame earrings for those who won't settle for regular ice on their ears.
The cut of these fire-breathing earrings is a modified antique cushion cut, with rounded corners, for an ultimate effect. The drop earrings are comprised of 3.27 and 3.03 carats respectively (they are slightly different in size), while the setting adds up to 1 carat – the grand total is a delicious 7 carats. The most amazing part of the Ashoka stone? Since it disperses light for maximum brilliance, it appears 30% larger than an emerald cut of the same carat weight
Price upon request at William Goldberg.