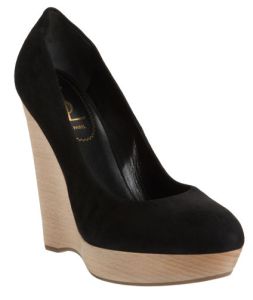 Call it a double standard. Thanks to so many neutral options that work just as well, you won't spot me carrying a black bag. When it comes to my shoes, I don't feel the same way. Everyone needs black shoes, whether it's to tie an outfit together, keep it grounded, or allow for that punchy bag. But no plain pitch-dark pumps, please!
But don't just settle for any boring old pair. Black shoes can always be kicked up a notch with an unexpected detail or element.  Here, Yves Saint Laurent takes the pump into unspoiled territory with a light wood wedge, high enough for a hint of drama. Brushed blonde wood coordinates with simplistic black without fading deep into the background; it also allows for an approach to daywear without going too somber. And when it comes to pumps, nothing is more comfortable than suede. No patent-leather pumps for me (ouch! Pack BandAids before you leave!). At Barneys New York for $795.
Pair with: A shoe like this poses the question, what won't go with it? But I would like to see these with something a little shocking, like Tibi's vivid fuchsia plants, in softly pleated silk for fluidity that will welcome a hearty wooden wedge. On ShopBop
for $378.