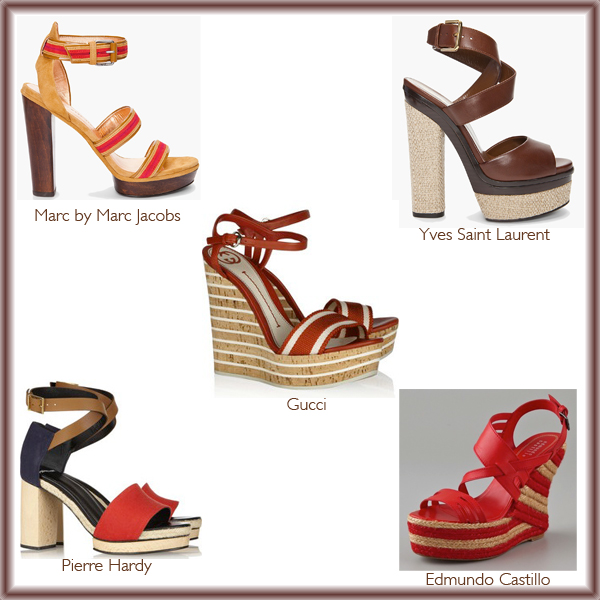 Spring is full of color and you need to infuse your shoe wardrobe with color of it's own, or have those that are lenient for coordinating with brights.
A little red is always refreshing and cute, the Marc by Marc Jacobs suede strappies with red and inlaid purple bands will get you far when you need a pick me up. At Ssense
for $340.
The YSL Flirty platforms are good for any time of year, any year for that matter. These are the perfect go to shoe to tone you down when you have much going on on top. The woven heels and platforms are so luxurious yet gives a carefree vibe that can go from city to beach, day to evening. At Ssense
for $1095.
Gucci may not have me in the bags department but there is always shoes that lure me in to their stores. This season, a simple cork wedge with burnt orange and white stripes will be a staple with my favorite color – blue! A perfect way to contrast without too much risk. At Net-a-Porter
for $675.
This is essentially neutral even though the color blocking may seem like you've got a lot going on. Just don't try to fight it, keep it casual and allow the pop of red to work for you. The moderate height means you can take this on vacation and sight see and shop without pain. At Net-a-Porter
for $595.
Red espadrilles should be in everyone's closet. I wear it with taupes and browns when anything else seems to just muddle it all up. Red is great like that, it turns things around and this season, it's a must have. At ShopBop
for $575.