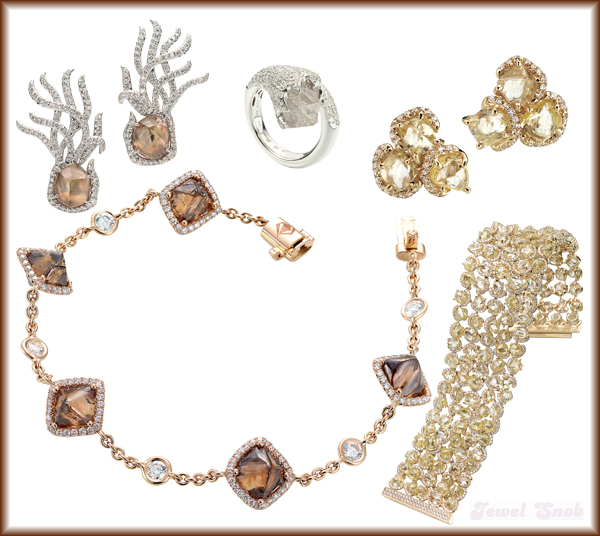 The jewels by Diamond in the Rough are truly exquisite and unique. I loved the ring I featured for Valentine's Day so much, I felt the line deserved a huge feature to themselves.
The high-end brand is all about exactly what their name suggests: captivated by the diamond in its real, raw form, they don't cut, polish, or alter their stones. Rough diamonds have a strong history (although people started cutting them in the Middle Ages) – and now we can appreciate them all over again. Some things are more stunning when they're not too perfect or contrived. These are diamonds in their natural state, boasting a beauty that is inherent and easy to appreciate.
1) Coral & Crystal Earclips ($45,000): Amber-toned rough diamonds are accented by a passionate explosion of micro pavé diamonds. They reach up around your earlobes with an energy all their own.
2) Iceberg Ring ($20,000): Cool and glacial, this is an exceptional way to ice out your hand. I love the way the diamonds reach around with asymmetry that's both sharp and soft.
3) Champagne Bubbles Earrings ($22,000): Who doesn't like a little bubbly every once in awhile? I could wear these three-stone clusters, trimmed with pavé diamonds set in 18-karat gold, every day.
4) Orielle Bracelet ($32,000): Nearly 10 karats of rough diamonds get the royal treatment with an 18-karat pink gold chain and enough micro diamonds to set eyes ablaze.
5) Champagne Bubbles Bracelet (price available upon request): This magnificent bracelet is one of a kind – and for good reason! It has exactly 96.67 karats of rough diamonds abounding from its transfixing arrangement.