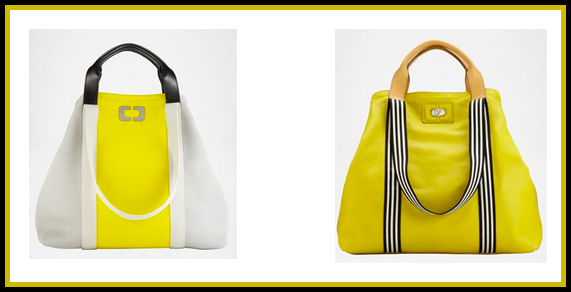 Diane von Furstenberg delivers: what a fabulous summer tote for all your sunning, beaching and vacationing. Those lazy days might seem far off at the moment, but the happy Kaya bag is here to make you feel like they are on the horizon.
Effortless cotton mesh is the obvious choice for waterside activities, and the black leather handle is a wise detail, ensuring it stays nice and stain-free. It also introduces the perfect contrast to the yellow-and-white panels, colorblocking elements that don't read as overt. Not only is the vibe relaxed, so is the great price. At under $200, you can really use this fearlessly. Go ahead and throw flip-flops and wet bathing suits in there!
Just a tad higher-maintenance, the leather satchel is solid for on-the-go adventures. Bright yellow with graphic stripes is pure sunshine, and the comfortable shape is effortless and chic. On both, the straps are brilliantly designed, so you have the option of top-handle or shoulder. I prefer to toss it in my hand; when the shoulder straps hang down, they add a pleasing focal point (rather than dangling and distracting the eye like some). Kaya says sunny days are on the way!
Pair with: You're thinking beachy, not matchy-matchy, so experiment with a busy print that has hints of yellow. Zero + Maria Cornejo's Lula tunic is a poolside cover-up that can translate to a super-casual sundress.
At Barneys New York for $450.