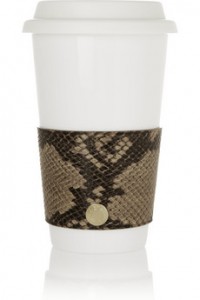 Including $165 to waste! I'm all for over-the-top indulgences if you have the means, but there are limits, no? The only justification for this Jimmy Choo coffee sleeve — and it's a stretch of a justification at best — is that it can be seen as less wasteful and more eco-friendly if you're a coffee addict. That said it takes a lot of energy to make leather so unless this is a scrap piece left over from a pair of shoes or you drink a seriously insane amount of Joe, this maintains its place as an absolutely ridiculous indulgence!
To boot, Couture Snob Kelly had a great point when she noted that she, like many of us, would probably accidentally throw the sleeve away with the cup! Plus it's not even adjustable so it would not necessarily fit all your re-usable or your everyday throw-away cups. I completely understand that not everyone can afford a pair of $700 pumps and many women would still like a piece of the Jimmy Choo brand in their closet and to them I say…wait for a Choo sale! I have seen Choo shoes for less than this coffee sleeve discounted on sites like Bluefly and at sale events (like Super Saturday in the Hamptons – where to boot proceeds go to charity).
What do you guys think about this indulgence?