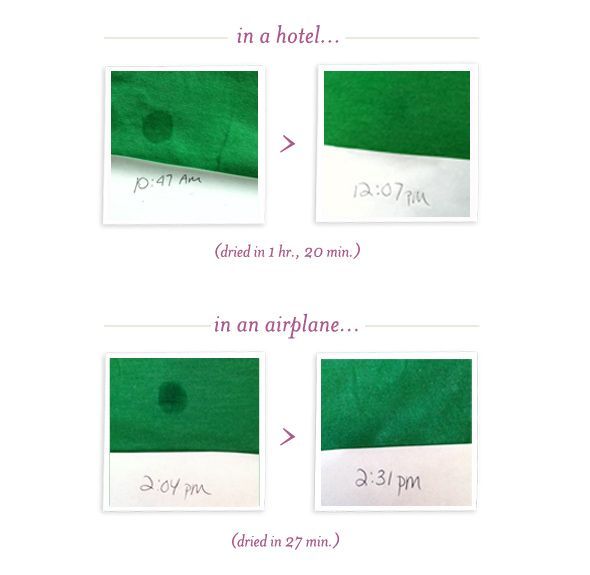 You've always heard how drying an airplane can be to the skin and you probably have felt it on your skin when flying. The reason for this dryness is caused when air is dry and moisture is not present. Through a process called osmosis, the air draws moisture from wherever it can and on a plane your skin is a source of such moisture. Osmosis will cause dry skins to get drier and leave oily skins even oilier due to increased oil production to compensate for the dehydration.

As a celebrity esthetician and someone who travels extensively around the globe for my growing skin care company, I personally feel the effects and wanted to test for myself as to exactly how drying airplane travel can really be.
Supplies used for the test:
-A 100% cotton t-shirt
-Water
-A small cap from a travel bottle of mouthwash that served as a measuring cup
The test: I did the test in two environments: the first in a hotel in Boston (I was there offering one-on-one skin consultations) on a sunny 50 degree December day. The second test was performed at 32,000 feet in an airplane.
I filled the mouthwash cap half way with water and poured it on the t-shirt and time stamped it.
I watched and watched until the water spot had virtually disappeared. The t-shirt took 1 hour and 20 minutes to dry.
For the second phase of the test, I repeated the same exact steps as before on an airplane at an altitude of 32,000 feet.
In this case, the t-shirt took only 27 minutes to dry! I was absolutely shocked. I couldn't believe my eyes! I knew the water spot would surely dry faster, but an hour faster? Wow.
This experiment reinforces the importance of skin care when traveling to prevent dryness. When you travel by plane, pay special attention to your skin. Skin cells are like fish, they need water to live and without it, you are compromising not only the appearance of the skin (lines and wrinkles are more pronounced when moisture is lacking in the skin), but the overall health of it too.
This is why when you travel it's so important to protect your skin with a good sunscreen moisturizer (you're closer to the sun so you're getting more harmful UV rays) applied over a hydrating serum like Renée Rouleau Intensive Firming Serum to create a protective seal on the skin to help prevent moisture loss.
Additionally, drinking plenty of water will also help to keep your system hydrated. While drinking water is not the most efficient way to hydrate the skin, it's still important for the health of your cells.
Interestingly, there have been some skin care experts who suggest that while traveling it is a good idea to mist your skin with a hydrating spray to keep it moist. However, this is a no-no, for sure! The worst thing you can do is spray those misters on the skin. Why? Because since the air is so dry, it looks for water wherever it can get it and since water attracts water, when you spray the skin it takes the water from the layers in the skin and gets evaporated into the dry air! The result is even tighter, drier skin. If you want to treat your skin in-flight, it's best to apply another layer of moisturizer on to your face mid flight to help the skin retain its moisture.
Caring for your skin after flying is really important to repair and renew the skin. I suggest using a mild facial scrub or light acid peel to remove surface dry skin cells accumulated from flying. Then rinse and apply a serum followed by a good moisturizing mask with ingredients like Sodium PCA, vitamin C (I suggest Magnesium Ascorbyl Phospate) and Hyaluronic Acid to add back essential hydration. These ingredients will also help to brighten the skin from post-flight dullness.
Happy and safe travels!
About the blogger: Celebrity esthetician, Renée Rouleau has built her skin care expertise over the last 25 years by working with women and men of all ages in their quest to attain healthy, glowing and flawlessly beautiful skin. Rouleau (pronounced Roo-LOW,) is a Dallas-based expert with two Texas skin-care-only spa locations who also regularly travels to LA and New York City to cater to an impressive VIP clientele. Celebrity fans of her exclusive skin care line include Demi Lovato, Katie Cassidy, Jessica Simpson and Lisa Rinna. Her website is www.ReneeRouleau.com