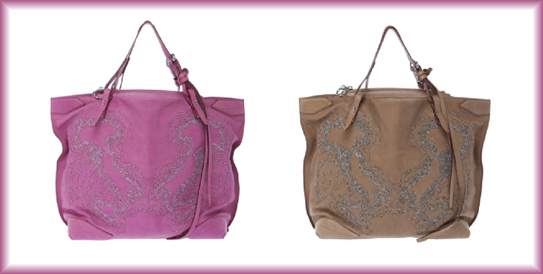 I love this brand, and I love the duo behind it – Jeffrey Parker and Tony Ta are seriously the best people in the world. The passionate designers have strong tastes with a flair for the mysterious, sharing loves for "moody colors…dark chocolate…the smell of vegetable-tanned leather…dinners in Paris…and divine decadence." I told you they were my kind of guys! JT Italia is so different from most brands out there. Their bags are made 100% in Italy, as in, not mostly made somewhere else and finally sent to Italy for the final stitch in order to sneak in that "Made in Italy" label. And you can really see it: their meticulous attention to detail makes their bags stand out immediately. The motif of this concentric thread embroidery mixed with lurex silver pays homage to Italy, where such techniques are celebrated – because only true Italian artisans can do it.
There are special touches throughout every inch. The gussets and the seams are tucked, all four corners have luggage corners, there is an external pocket, the edges are hand painted in their signature vena red, there is cut-edge piping and has a cowl neckline. And the handles are never just a piece of leather. Along with the adjustable buckle, the attachment point wraps around a bracelet strap and affixed with talon studs. With amazing embroidery, the Rinascimento Tote (meaning the Renaissance) takes an everyday classic you can really use and turns it into a fairy-tale dream bag. It comes in many colors, but my favorites are the rich pink and the neutral tan – especially beautiful set against the intricate embroidery design. It's lust at first sight and then love to last a lifetime.
Available at JTItalia for Spring, 860 Euros ($1130). The price is exceptional for something truly handcrafted, and did I mention 100% made in Italy? Unheard of. Sad but true.