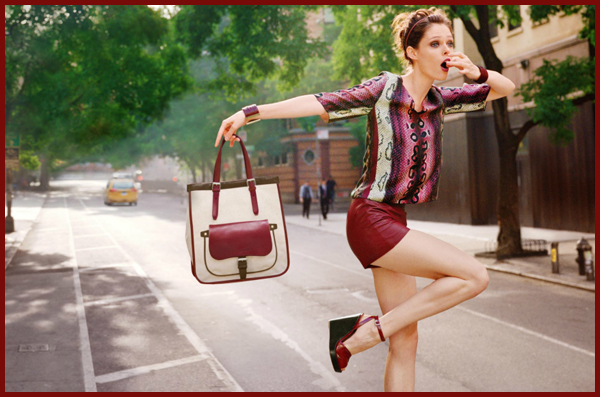 I'll be frank: Longchamp doesn't usually make my list (especially after Kate Moss' recent hairy debacle). But it looks like the classic French brand, that actually got its start in tobacco years ago, has a new spirit this spring. Or perhaps a reinvigorated design team. These are the best Longchamp bags I've seen in years.
Out of Spring 2012's Balzane collection, inspired by the concept of modern Amazons and current-day warriors (well, urban fashion warriors, at least), the latest satchels have hints of saddlery and modern edge. Like this leopard-print handbag ($1,470): fuzzy animal spots take on a digitized effect that looks totally fresh (choose between delicious iguana-style leather and relaxed canvas). They've countered the cosmopolitan pattern and traditional handbag shape with saddle-bag detailing; the brown leather flap brings rusticity into the mix. Or the canvas and leather tote ($830), which makes for a low-key approach to colorblocking that is anything but overtly trendy. Think of this day bag as a casual alternative to Proenza's PS1 tote.
Longchamp's got some spring their step – it might be time to put some Longchamp in yours.