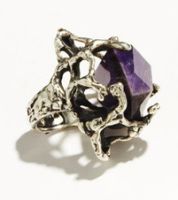 Flaxen-haired Australian model (and sometime rocker) Abbey Lee Kershaw is known for her hippie-grunge-glam style, and mystical, magical Australian jewelry line ManiaMania is known for their earthy-ethereal pieces. So it's only logical that the young muse (she says her off-duty looks are dependent on mood and what's lying clean on her bedroom floor in the morning) and the three-year-old line came together to create the Abbey Lee ring.
The limited-edition cage ring spotlights a deep, chunky amethyst framed by sprawling silver-plated metal. It looks like a glistening tree stump grew around a powerful gem – and found its way to your finger. A statement ring? That's for sure, but the statement it's making is a naturally cool one. At ManiaMania for $360.
Pair with: Take this bewitching look and run with it. Worn with L'Agence's slitted and crinkled satin maxi-skirt, this jewel will have you channeling your inner Stevie Nicks and incite some "Crystal Visions" of your own. On Net-a-Porter
for $350.