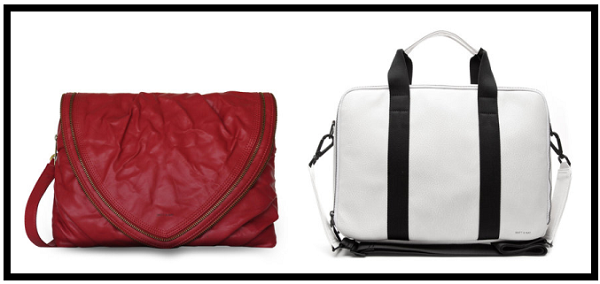 It seems only fitting that Apple, a company known for carbon-footprint consciousness, would stand behind an all-vegan bag label. Matt & Nat have just collaborated with Apple for a second collection of satchels even the greenest of snobs can be proud to carry.
With crinkly faux-leather and accenting zipper hardware, the Ritual messenger ($180) is as relaxed-cool as it is environmentally aware. Recycled gray suede-effect lining makes a nice home for your 13" MacBook – and I especially appreciate the jolt of candied-apple color. You would never guess it, but the Phoenix laptop carrier ($265) is made out of recycled bottles! All-around zips make for easy access, and black-on-white makes for graphic contrast. Of course, they both offer every possible organizational pocket for all your Apple gadgets. Hip styles that work for you – ideal for the Apple customer! Available at Matt & Nat.
Pair with: Stay vegan – and comfortable – as you dash around, technology in tow, with Stella McCartney's ankle-wrap sandal. Cork and faux leather come together for a classic springtime feel. At Neiman Marcus
for $495.