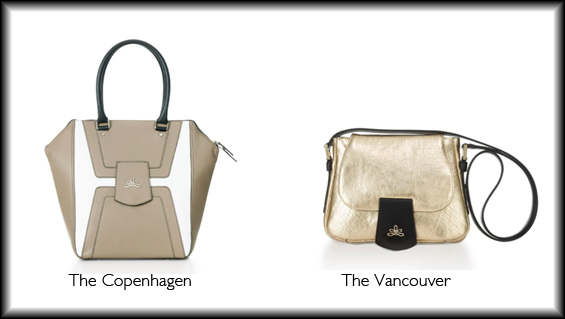 Milli Millu's new collection takes us on a continent-sprawling cosmopolitan tour, and the standouts on their fast-paced adventure? Surprisingly, it's the understated cities of Vancouver and Copenhagen.
You cannot deny the convenience and ease of a small shoulder bag, especially one you can wear cross-body, but do they have to be so boring? The Vancouver certainly isn't. In crackled gold leather, this bag has way more party-potential than its namesake city. Textured metallic is just flashy enough to gain (respectable) notice, and the easy trapezoid-shaped tab adds the final wow factor to draw the eyes in. The perfect size for on-the-move evenings, but as a day bag, solid black would serve you very well.
Onto the next stopover! As if Copenhagen's shape isn't unique enough on its own, the color-blocked panels take this tote to new heights. Mesmerizing geometry completely commands your attention. The best part: Milli Millu always thinks about real life. An oversized yet structured carryall like this is a great companion for the office and weekends. Choose nude for everyday or if you're going on an island vacation, the bright combo of pink and green will set a festive mood
The Vancouver, £295/$452, and the Copenhagen, £465/$712, will be available in February at Milli Millu.