The choice is yours: take this dress back where it came from, to Petticoat Junction – or give it a sexy-cute surprise and go full-on Gothic Lolita. A dress like Miu Miu's latest spring number, in poufy red gingham, might look like a statement, but it's your call. The beauty of a bold frock is that it should inspire you to be even bolder.
Here's how to wear one dress and take your pick of two very different persfonalities.
On Net-a-Porter for $2,150.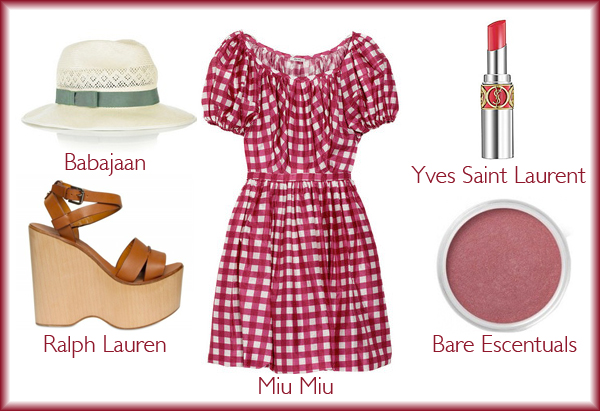 1) Rock-a-Billy Baby: So very home on the range…or ranch or prairie or whatever! This dress screams Daisy Duke, so why not take the look and run with it? Satisfy it with a feminine straw hat that adds even more flair by Babajaan ($320) and a pair of Ralph Lauren platforms ($984) in naturalistic leather and light wood – high enough to make you stand out at the county fair. Keep the makeup to a minimum with a rosy cheek ($14.25) and a pretty pink lip ($30).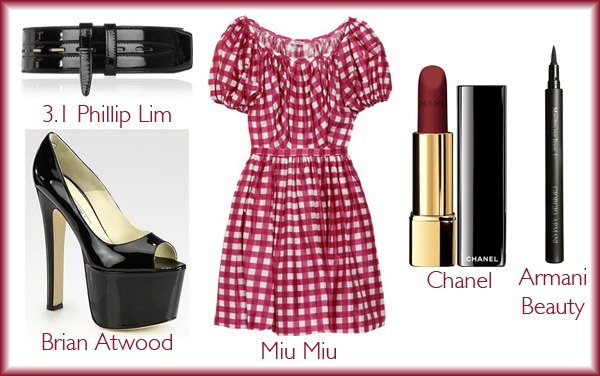 2) Harajuku Lover Gone Naughty: This dress looks great caught in a bad romance. Something as sweet and innocent as this – the down-home pattern (Grandma would be proud), the puffed sleeves, and full skirt – suggests the look of a little girl. Which means you can juxtapose it with a wicked, S&M-inspired pump. Brian Atwood's peep-toe ($775) is standard-sexy – until you catch that killer front platform! Cinch it with a patent-leather waist belt by Phillip Lim  ($275), vamp it up with a winged cat eye ($31) and dark, racy burgundy lipstick ($32.50), and you've got Gothic edge.