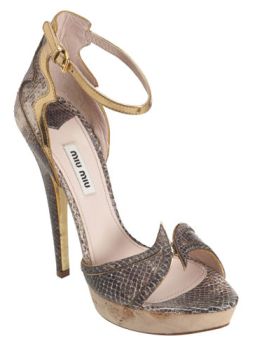 In the hands of Miuccia, a high-heeled sandal is never just a high-heeled sandal. Overflowing with imagination, she sees her shoes, no matter how scant the straps, as pieces with plenty of room to play. This snakeskin creation had me at hello. Fantastical and gorgeous, the sharp and swerving shape wraps around your foot like few sandals do, and the outcome is sheer delight.
The two-piece, swirled band at the front seduces the eye instantaneously – one glimpse, and I was entranced. The earthy texture of this python brings in an antiquated look, the right complement to the ornately decorative curves. Metallic gold trim seals the deal: this is old-world beauty at its most fanciful. Transitioning from summer to fall, from brights to black, a rare level of versatility and an easy price make these a must-buy. Available for pre-order at Barneys New York for $795 (expect delivery in March).
Pair with: The slick piping invites more precious metals. Pamela Love's jewelry-inspired bag, in antiqued brass or burnished silver, looks at-once old and new, hard and soft. Pamela Love Brass or Silver Purse, $931 (from $3,000).